Projects – Let's Grow Together
Things are certainly looking good at Timberline these days! We have completed many significant upgrades to the property, and there are still more in the planning stages.
The past 10 years or so have been busy with building, and we are now finished Phase I and Phase II and are well into Phase III. See below for some specifics of what has been completed, as well as possible future plans.
We also want to extend a big Thank You to all of our corporate donors, who have each played an important role in these projects.
Phase I (2008-2011)

Upgrade road to above flood plain (completed September 2008).
Install sprinkler system in Lodge (completed).
Install sewer system and connect to district's system (completed).
Upgrade power from road and bury power lines (completed).
Build new "Powerhouse" to contain tanks, pumps, generator, electrical panels, and so on (completed).
Build "Western Town" to replace Bunkhouse cabins (completed). See the floor plans. Each of the 6 cabin units contains:

Two queen beds and four sets of bunk beds, with bedroom divider (to make 12 bedrooms total when needed)
Bathrooms, sinks, and showers
Entry areas.
Phase II (2011-2014)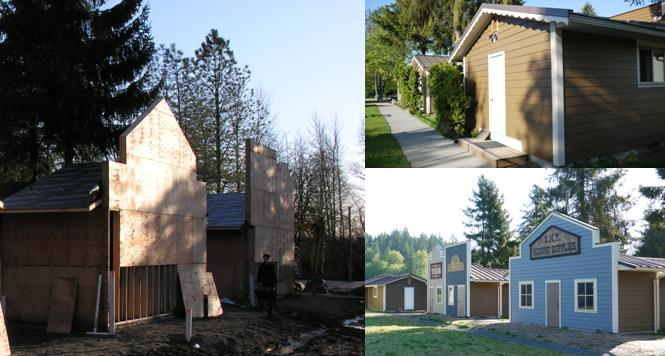 Celebrate 50th Anniversary! (2011)
Build bathroom & shower additions to all existing outside cabins (completed 2012).
Build playground (completed 2013).
Build "Town Hall" (completed August, 2014). See the floor plans. This building contains::

Meeting room (60′ x 40′) with retractable dividing wall (makes two 30′ x 40′ rooms)
Craft/meeting room
Tuck shop
Bathrooms
Staff laundry room.
Phase III (est. 2015-2021)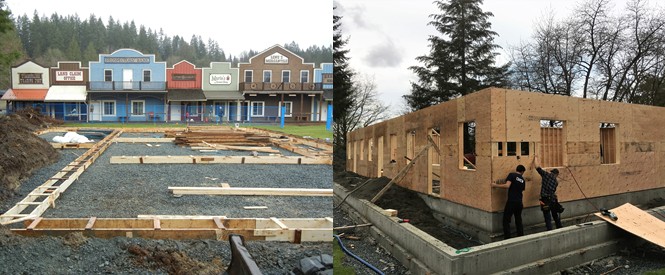 Build "Horseman Inn", which includes three new cabins and a small meeting room (completed 2018). See the floor plans. Each of the 3 cabin units contains:

Two single beds and four sets of bunk beds
Bathrooms, sinks, and showers.

Build new activity areas:

400′ Zipline (completed 2018)
High ropes course
Gymnasium.

Update Lodge:

Extend Dining Hall
Renovate upstairs rooms.

Build Horse Shelter.
Future Projects Being Considered
Staff housing
Infirmary
Lake
Adventure golf course.
How Can I Help?
The only thing stopping any of these projects are the precious resources of time and money. If you have either available to you, and you would like to help see some of these projects happen, we would be glad to talk to you. We need volunteers to help build (preferably with some trades skill and experience), we need materials to be donated, and we need, well, money! As a non-profit society, we will of course, issue tax receipts where appropriate.
If you can help in any of these ways, please call our Property Manager, Doug McDougall, at 604-463-9278, ext. 107 or email him at property@timberlineranch.com. Alternatively, you can contact our Executive Director, Craig Douglas, at 604-463-9278, ext. 120, or craig@timberlineranch.com. Also, you can now quickly and easily donate online.
Thank you for your interest and support of Timberline Ranch.