Projects – Let's Grow Together
Things are certainly looking good at Timberline these days! We have completed many significant upgrades to the property, and there are still more in the planning stages.
The past 12 years have been busy with re-building old infrastructure and improving most of our facilities. We are now finally working on Phase IV, which includes a gymnasium that has been planned and re-planned for several decades! See below for some specifics of what has been completed, as well as current and possible future plans.
We want to extend a big Thank You to all of our private and corporate donors, who have each played an important role in these projects.
If you are able to help in any way, please let us know by emailing the Executive Director, Craig Douglas.
Phase I (2008-2011)

Upgrade 144th Avenue (completed in 2008).

Raised 4 feet, now above floodplain

Install sprinkler system in Lodge (completed)

All three floors, to bring building back up to code

Install Sewer System (completed)

Four tanks for present and future capacity
Over 2 km to connect with the city

Build Powerhouse (completed)

Contains sewer system, generator, electrical systems, water systems, etc.
Built to look like a country church

Upgrade Power from Road (completed)

New transformer boxes throughout the Ranch
Power lines put underground

Build Western Town (completed in 2011)

Replaces old Bunkhouse with 6 new dividable cabins
Units contain bathrooms, sinks, and showers
See floor plans

Celebrate 50th Anniversary! (completed in 2011)
Phase II (2012-2014)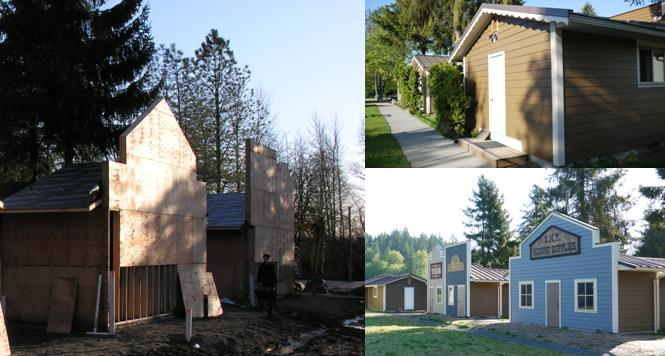 Renovate Poolside Cabins (completed in 2012)

Bathrooms, sinks, and showers added to all 9 cabins
Cabins re-roofed and re-sided
See floor plans

Build playground (completed in 2013).

Play structure and swings, east of Lodge

Build Town Hall (completed in 2014)

Dividable 60′ x 40′ meeting room
Craft room
Tuck shop
Bathrooms
Staff laundry room
See floor plans
Phase III (2015-2018)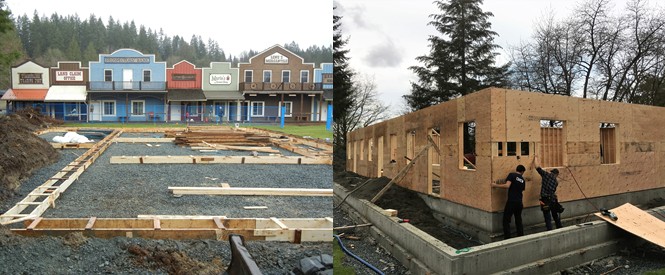 Build Horseman Inn (completed in 2018)

3 new cabins (bringing total to 18) with bathrooms, sinks, and showers
Small meeting room with bathroom
See floor plans.

Build Zip Line (completed 2018)
Phase IV (est. 2019-2022)
Renovate Upstairs Lodge (2020-21)
Celebrate 60th Anniversary! (2021)

May be delayed, due to COVID-19

Build Horse Shelter (to be completed in Spring 2021)

75′ x 105′ "Quonset" structure

Build Gymnasium (to be completed in 2021-22)

50′ x 80′ gym
Climbing wall
Bouldering area
Washrooms
Small meeting area
Future Projects (delayed due to COVID-19)
Build High Ropes Course (TBD)

Connecting to existing zip line

Extend Dining Hall (TBD)

Adding 1000 square feet to the north of the east side
Future Wish List Projects (given the time and the money)
Build Infirmary
Build Staff Housing & Speaker Cabin
Build Outdoor Sports Court
Build Mini-Golf
Build Lake
How Can I Help?
We very rarely run fundraising events, yet we have been so blessed over the years by people and businesses who voluntarily help out and provide much needed financial support.
Timberline is a charitable organization, hosting over 10,000 children and their families every year. If you would like to be part of this team as we reach out to our community, please let us know. Donations can also be given online, and all gifts are tax-receiptable.
Thank you for your support of Timberline Ranch!