Homeschooling Goes Outdoors
Timberline's homeschool camp is a series of four one-day camps on consecutive Mondays*, designed specially for homelearners aged 9-16, to give them some new experiences and opportunities, including:
Meet and learn with other homeschoolers
Learn new skills in a quiet wilderness setting
Take on new challenges
Increase physical fitness
Adopt a safety-first attitude
Gain self-control through learning to control and ride a horse
Develop team-building skills through whole-camp games
Grow in or explore the Christian faith
Homeschool camp activities generally include:
Riding lessons
Horsemanship
Riflery
Archery
Rock-Climbing
Chapel
Group Activities
The program begins after breakfast at 9:00 a.m., and it ends at 4:00 p.m. Lunch and snacks are included in the camp fee. Check the information below for dates, prices, and availability.
What previous homeschoolers have said…
"This has been the highlight of our year – no exaggeration!"
"My child gained self-confidence, improved his socialization skills, confronted and conquered his fears."
"I would definitely recommend it highly to other homeschool families. I already have!"
"It was a new, exciting experience for my children."
* Please note: If one of these Mondays falls on a Holiday, camp will be moved to the Tuesday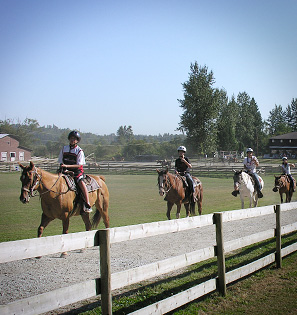 The Details
*** Homeschool camp is on 3 Mondays (Feb 3, 10, & 24) and 1 Tuesday (Feb 18).