SWAT Team
Want to have an experience that will last forever? Join our SWAT Team – "Summer Workers at Timberline."
Top Ten Reasons to Apply for SWAT
You will have tons of fun in a terrific camp environment.
You will make lifelong friends. Crazy friends, true, but lifelong!
You will grow spiritually as you become part of a community that is focused on serving God.
You will struggle at times! Being on SWAT is hard, and, but it's through struggles that people grow their faith and develop confidence (e.g. James 1:2-4; Romans 5:3-5), even if they fail on occasion.
You will learn and develop many crucial, transferable skills such as problem-solving, community living, critical thinking, creativity, leadership, taking initiative, communication, conflict resolution, team-work, and collaboration.
You will be trained in specific skills such as childcare, rock climbing, cooking, horse-care, using tools, and so on.
You will have something fantastic to put on your resume. Many recruiters are looking specifically for people who have served at a summer camp.
You will make an eternal difference in the lives of many children. That's amazing!
You will receive a decent salary, plus bonuses (see specifics below), especially if you are heading back to post-secondary school.
You will experience a sense of purpose and belonging like you may never experience anywhere else this side of heaven.
For more information, email Dobson Reid, our Assistant Director, or phone him at 604-463-9278, extension 103.
How many reasons do you need? Do it for the Lord, do it for the kids, do it for yourself, and do it for an amazing experience that will last forever!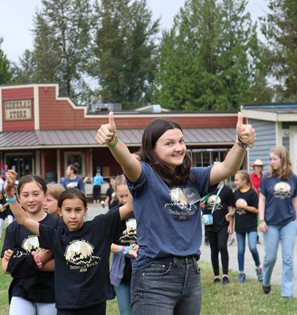 Requirements
An application and screening process allows us to determine if Timberline is the right place for you this summer. If you are accepted, you will receive the following:
Quality staff training
Opportunities to serve in numerous areas (see below)
Great pay and extra benefits (see below)
A SWAT Team T-Shirt and a Timberline Staff Shirt
To qualify, you must:
Be at least 18 years of age by December 31, 2023
Be available June 23 – September 1 (some allowance will be made for students who have to return to school early)
Demonstrate an active and genuine Christian faith
Be actively involved in a local, evangelical church
Be able to work well with a team and as an individual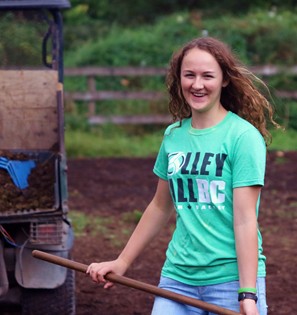 SWAT Positions Available
Camp Cabin Leaders
Our Cabin Leaders are our frontline workers, the ones who will impact the campers the most (and who will also grow the most!). Everyone else is working to support you in your role. If you are hired as a Cabin Leader, you will be in a cabin with children most weeks in the summer (four nights per week). The other weeks you will serve in some of the support roles below as needed. Your main roles are to:
Be with your kids whenever possible (they spell love: T-I-M-E!)
Have fun with them
Ensure they are well looked-after and safe
Teach and demonstrate to them the love of Jesus
This is the most important role at Timberline Ranch, and we look to hire those who love children, love Jesus, and are responsible team players.
Camp Support Roles
There are so many ways you can support the ministry happening with the children! In some of these roles, you may work directly with the children, teaching them how to ride a horse, shoot an arrow, or rappel down a cliff. In others, you may spend most of your time preparing food for the campers and staff, keeping the property clean and functional, or ensuring the horses are looked after. The main thing is to remember Who we're doing this for and why it makes such a difference in the lives of campers! Some positions include:
Kitchen Team

Help ensure everyone is well-fed, the dishes are clean, and the kitchen and Dining Hall are clean and presentable.

Barn Team

Help lead trail rides, tack-up horses, clean stalls, look after the petting zoo animals, lead horse-related activities, and teach lessons on horsemanship.

Maintenance Team

Timberline could never be such a beautiful property were it not for the staff and volunteers who clean, mow, weed-whack, repair, and generally make sure everything looks great and works well around the Ranch.

Program Team

Support our Cabin Leaders by running games, planning events, leading meals, and ensuring everything starts on time and is run well.

Skills Team

Help the Program run smoothly by using your particular skills and passions to lead activities and ensure they are done professionally, safely, and in a fun manner. We need:

Climbing Instructors
Zipline Instructors
Lifeguards
Activity Instructors
Videographers

Medical Team

You can support all of the campers and staff by keeping us all healthy and coming as a nurse or first aid attendant. So vital to our ministry!

Camp Speakers

Lead camper Bible studies during the Morning Show and at Campfire in the evenings.

Year-Round Staff

Although these are obviously not summer positions, our year-round staff is also here to support those working most directly with the campers. This group includes directors, managers, and assistants in all aspects of the camp ministry and in all departments. Although many do not live onsite, they will be around as much as needed to ensure that everything and everyone is well-supported. Many continue working when they are at home, so even if you don't always see them, know that they are highly involved!

TR Board

Our excellent board is a small group of men and women who are dedicated to ensuring that the camp is well-run. You may not see them in the summer, but know that they are praying for you and are working hard behind the scenes.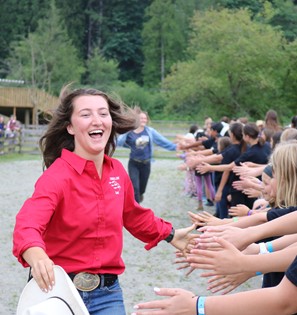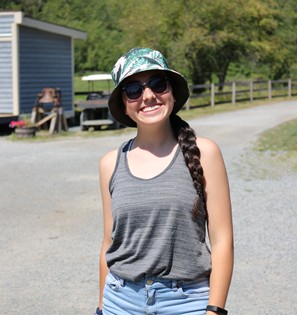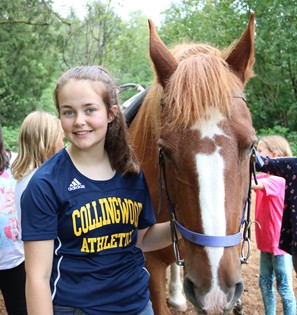 SWAT Benefits for 2023
Not only do SWAT Team members get to work with kids, learn, grow, and make a difference for Jesus, but they also get fantastic benefits, especially if they are heading back to school in the fall.
Financial Benefits
| | |
| --- | --- |
| Starting wage | $670 per week |
| Previous SWAT bonus | $200 for those who have previously served on SWAT |
| Cabin-leading bonus | $60 per week in the cabin |
| 10-week bonus | $100 for those who work all ten weeks |
| Early application bonus | $100 for all who apply by Jan 31, 2023 |
| Student scholarship | $300+ heading to post-secondary school (tax free) |
| Recruitment bonus | $200 per new SWAT person you recruit! (conditions apply) |
Even without recruiting any new SWAT members, a new Cabin Leader heading to school can easily earn $7500 during the summer, or the equivalent of full-time work at $18.75 per hour for the full ten weeks. A returning SWAT member can receive the FT equivalent of $19.25 per hour, and if they recruit a couple of people for SWAT, that increases to $20.25!
Costs
Room and board – just $60 per week!
Everything else is provided so that you can save money!
Additional Benefits
Unique 2023 SWAT shirt
Unique 2023 Staff shirt
Free Tuck items daily
Support team
Special weekly staff events
Most weekends off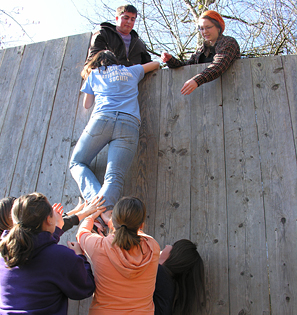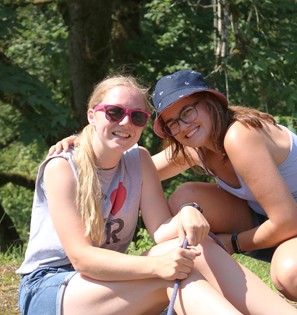 SWAT Living at the Ranch (or not?)
We expect all SWAT Team members to live on-site from Sunday evenings until Friday evenings and to be involved all day, Monday to Friday with the program (short breaks will be given). Those who cannot get home on the weekends (e.g., international staff) will be allowed to stay over, but everyone else we encourage to go home, rest well, do your laundry, and attend a church on Sunday morning.
Because of Timberline's proximity to town, some non-SWAT positions in the kitchen and in the barn may also be available. These jobs have fewer benefits and do not require staff to live at the Ranch or to stay past their shift. However, we prefer that our summer staff, where possible, join our SWAT team and stay at the Ranch while camps are in session.
SWAT Team Training Camp Dates
Timberline's SWAT Team training camp is offered once each year for those accepted through the application process. The 2023 training is on June 23-28.
The training begins at noon on Friday and ends at 10:00 p.m. on Wednesday. The rest of the summer staff will be included from Friday to Monday, so you'll get to know them as well.
Application
To apply, please complete the Staff Application Form, two Reference forms (filled in by an associate), and one Reference form (filled in by a pastor), and send them to us.
Please note that SWAT Team applications are due by February 28 (plus a $100 bonus for those who apply by January 31 and are accepted). Applications received after February 28 will be considered if the needs of the Ranch cannot be fulfilled by the applications sent in on time.