Horsemanship Camp: Livin' The Cowboy Dream.
Horses, horses, and more horses. A weekend full of riding lessons, gorgeous trail-riding, horseback games, horse care, fun theory classes, and a whole bunch more. Everyone discovers the cowboy or cowgirl inside of them.
Registration is limited to only 40 spots, guaranteeing quality instruction and small class sizes.
The weekend begins at 7:30 p.m. (evening snack, but no dinner) on the first night and ends at 1:00 p.m. on the last day. The gates open a few minutes before the camp begins, to allow staff preparation time.
All meals, snacks, and accommodations are included in the camp fee. Check the information below for dates, price, and availability.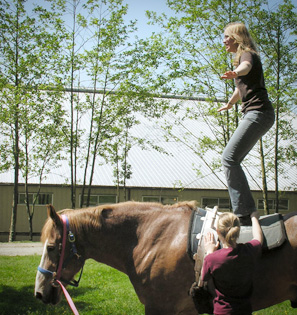 The Details
* Please note: 5% GST must be added to this price.