LIT – Leaders in Training
You don't want to miss this! If you want to serve at camp this summer, meet new friends, and go a little deeper with God, you'll want to be here. It's an entire week of working and learning together, in an intimate and fun camp setting.
Here's a little of what to expect:
Leadership training – how to be a leader people will follow, through integrity (who you are as a leader) and influence (what you do as a leader)
Camp skills training, such as how to lead Archery, Rock-Climbing, Challenge Course, and so on
Faith development, learning and growing in our relationship with Jesus and learning how to share our faith with others
Counseling skills – learning how to work well with various kinds of kids in a camp setting, through discussions and role-play
Hands-on work with the kids at Summer Camp, practicing the skills you're learning
Lots of laughs and fun, as you meet people who want to learn and grow, just like you do.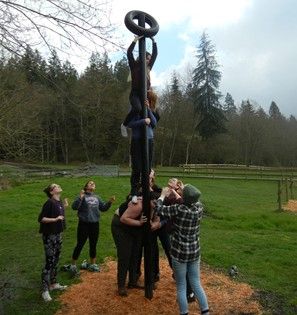 LIT Program Dates
Timberline's LIT Program is offered once each year, and the camp fee for the week is $299 (+GST). This fee includes everything: meals, materials, events, training, an LIT shirt, and somewhere to sleep. The 2022 training is currently planned for March 11-17, overnight if possible (Friday at 7:00 p.m. until Thursday at 6:00 p.m.).
On the first evening there will be an evening snack, but no dinner. The gates generally open just a few minutes prior to the camp starting, so that our staff and facilities can be ready.
Application
Because LITs work with children during their training, they are required to go through a screening process similar to what our staff go through. This involves completing the Staff Application Form, two Reference forms (filled in by an associate), one Reference form (filled in by a pastor or Christian youth leader), and an interview.
You must be 16-18 years of age by December 31, 2022. Please note that LIT Program applications are due by February 28. We hope to see you here!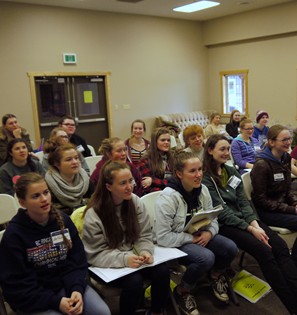 What some of our LITs had to say…
"A thoroughly enjoyable experience, jam-packed with fun activities and powerful lessons." – Alpine (2020)
"LIT was the most inspirational week of my life." – Beaner (2019)
"An amazing experience, filled with excitement and new relationships." – Sycamore (2020)
"LIT week was probably the best week of my life, and I have God to thank for putting me there." – Mercury (2019)
"I have made friendships which will last a lifetime! It was an epic week!" – Crafty (2018)
"LIT was a life-changing experience. I made amazing friends and grew so much closer to God." – Pluto (2020)
"It was one of the best weeks of my life . . . most importantly, we learned about our faith and how to be a good leader." – Cappuccino (2019)
"LIT was phenomenal. I made many amazing friendships and, more importantly, drew nearer to Jesus." – Dapper (2018)
"LIT was one of the best experiences of my life. I met incredible people and learned about God and how to be a great leader." – Never (2020)
"LIT saved my life, renewed my faith in God, gave me the family I needed, made me the leader I've always wanted to be, and gave me joy I didn't know I could experience." – Moony (2019)
"LIT has not only given me amazing friends, but it's given me a new perspective of God. It took me out of my comfort zone and taught me new things about myself. LIT is truly life-changing for everyone who comes." – Pegasus (2018)
"I was able to learn to much about leadership. Made so many great memories and friendships. Highly recommend!" – Ember (2020)
"In LIT I found more than just leadership training – I found a family, I found empowerment, and most importantly, I found Jesus." – Pinof (2019)
"LIT helped me build so many amazing friendships and a closer relationship with God. Can't wait to come back in the summer!" – Crash (2020)
"The friendships formed at LIT are friendships lasting a lifetime. We are no longer strangers, we are family." – Bamboozle (2019)
"LIT changed my life, strengthened my faith, and gave me a family." – Indigo (2019)